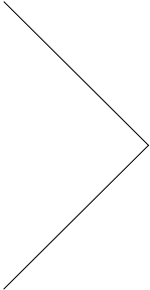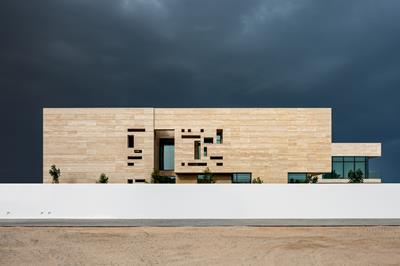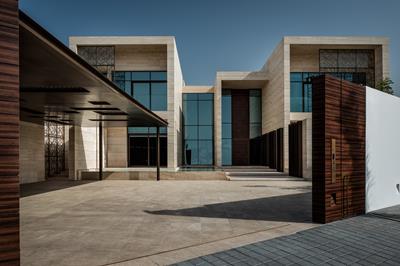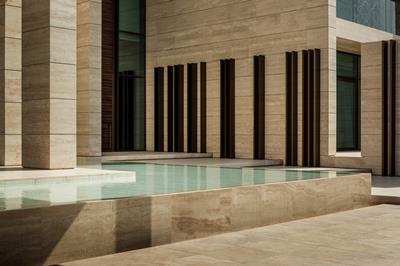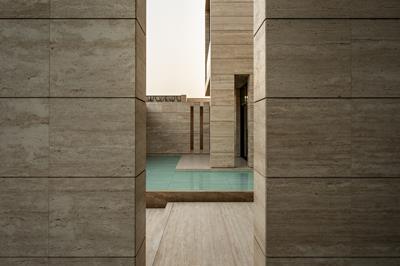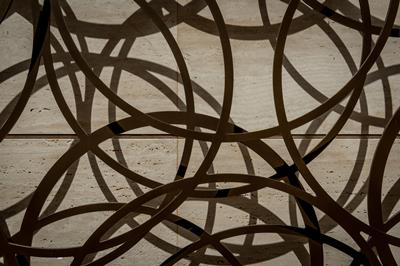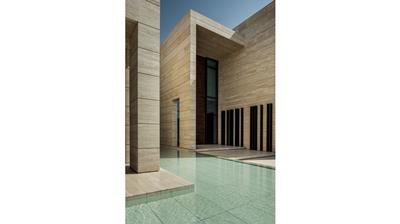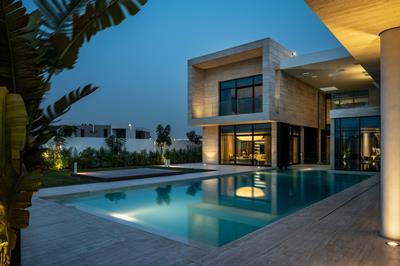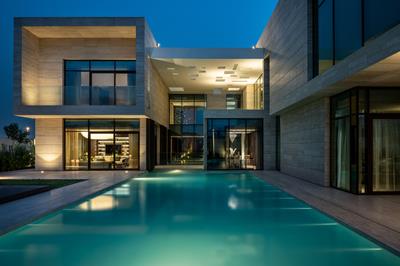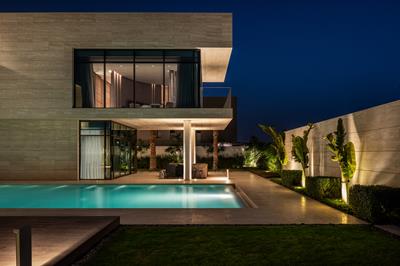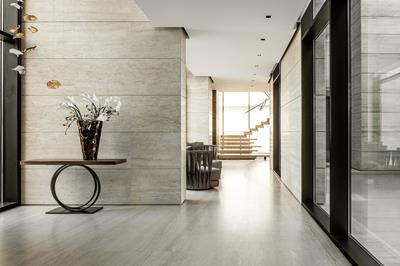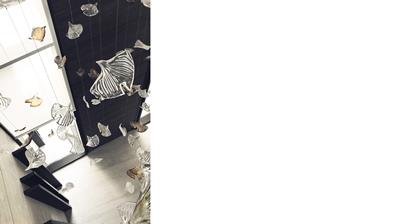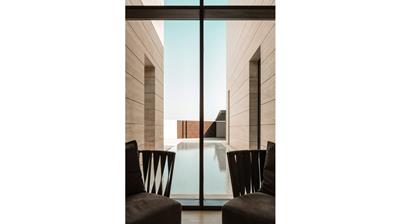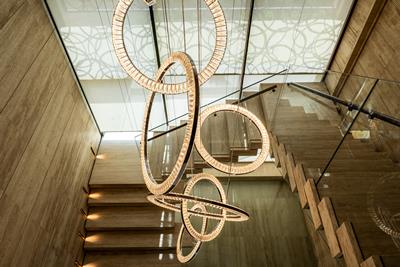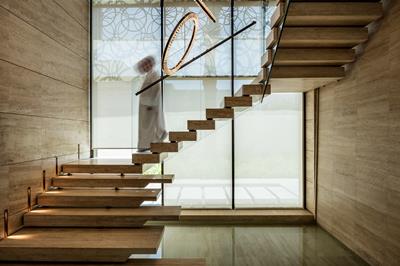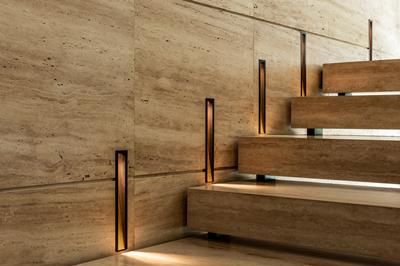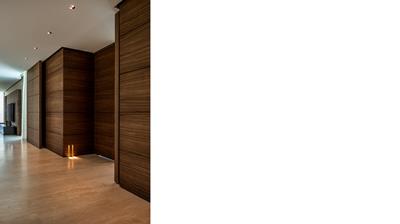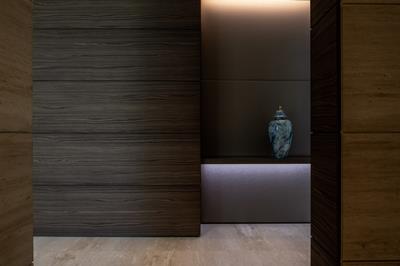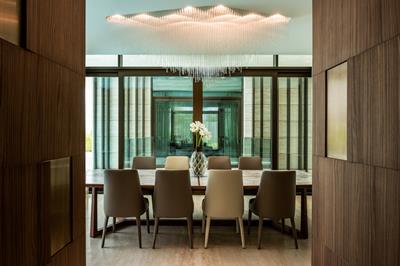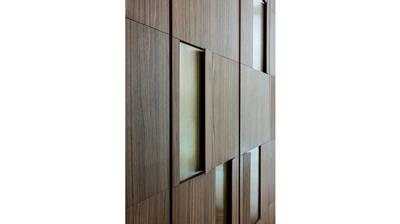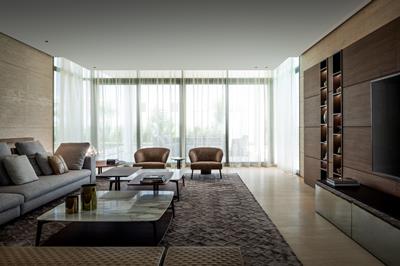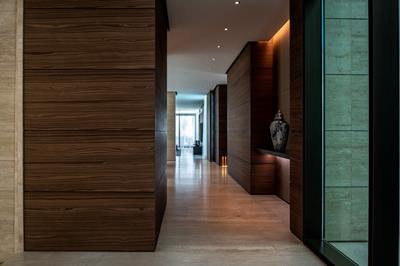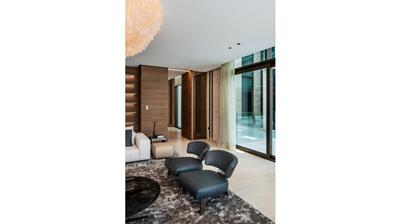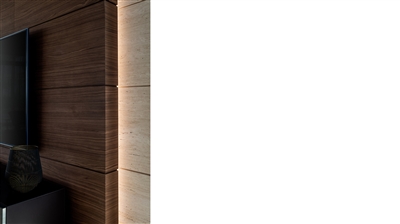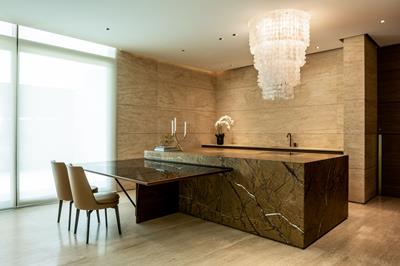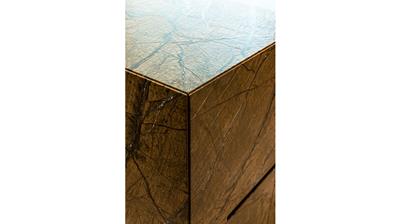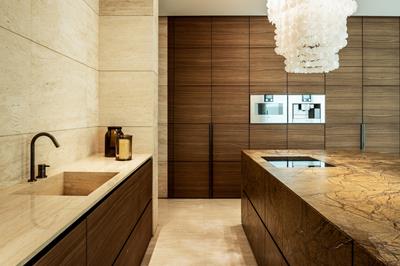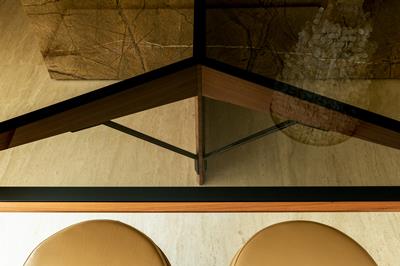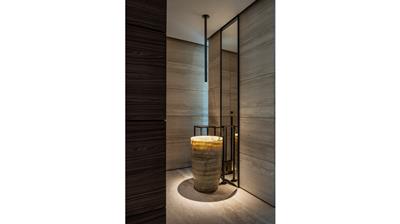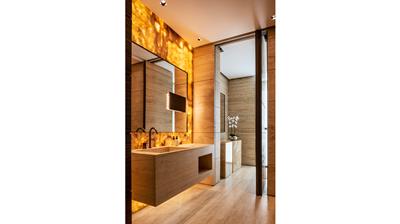 Year: 2017
Client: Confidential
Services: Interior Design, Landscape Design
Principal Architect: Riccardo Papa
Team: Serena Sangalli
Consultants: Dynamic Design DMCC [PMO], Kolektiv Ateliers [lighting]
NAGA Studio [aor, structural, mechanical]
Floor area: 1,500 sqm
Photographer: Tushar Naik
The elegant Villa AB is a private residence in the Jumeirah area, a residential location near the sea, a few steps from the famous Medinat Jumeirah of Dubai city.
In the project, curated by MMA Projects, the focus was on the quality of materials and finishes to create a luxurious and elegant residence, with modern and minimal features, although with some references to the Arab style. The classic Roman Travertine stone emphasises the imposing structure and the combination of parallelepipeds that create glimpses of light and shadow.
As a tribute to Arab culture, some bronzed metal details have been added, recalling the Mashrabwa, a naturally forced ventilation device typical of the architecture of Arab countries. In addition, delicate and highly original circular designs embellish the façade, attracting the eye and giving identity and mystery to the entire house.
On the outside, MMA Projects architects have given a further modern touch by redefining the landscape, providing wooden decking to make the garden an extension of the interior space the addition of the elegant infinity pool.
For the main entrance, Synua was chosen by the leader of armoured doors in the high-end segment Oikos Venezia. In its Canaletto walnut finish, Synua ensures both elegance and safety. Thanks to the attention to details such as the castomized bronze profiles, it fits harmoniously into the facade, recalling the metal of the Mashrabiyya and contributing, together with it, to capture the light of the sun and reflect it in its warmest and softest tones.
Just like the exterior, the interiors have also been designed with new spaces and materials in an elegant and contemporary way, using modern marble for floors and walls and natural woods for the boiserie. Travertine stone influences all the rooms, passing from one to the other, combined with Canaletto Walnut wood in the boiserie for the living rooms and doors, Onyx for the bathrooms, and Forest brown marble for the kitchen - acting as a star for the cantilevered staircase where the chandelier with luminous circles is reflected in the burnished iron circles of the Mashrabiwa on the facade and in the mother of pearl of the handmade chandeliers.